Pour la version fran�aise cliquez ici



NEW!!!
Wisdom For Kids section added


PHILOSOPHIX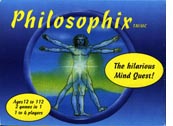 "The Mind Quest Game"
44 illustrated cards, self corrective guide of sayings, list of thinkers, rules. Ages 12 - 112
---
THE ONE-MINUTE PHILOSOPHER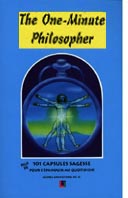 Discover more than 101 enigmas, puzzles and amazing questions!




---
The Wisdom Journey
NEW!
An easy and enjoyable way to discover simple wisdom
Wisdom is power. Experience growth and enlightenment by listening to the words of wisdom of the most remarkable people, cast into a relaxing and inspirational music. The quality of your life depends on the insights you have and the decisions you make. The Wisdom Journey will help you handle today's problems and tomorrow's challenges.


---
THE WISDOM KIT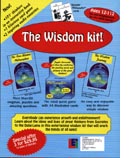 NEW!
101 thinkers in an interactive book
1 hilarious card game
2 inspiring audio cassettes

Everybody can experience growth and enlightenment!
Learn about the ideas and lives of great thinkers from Socrates to the Dalai-Lama in this entertaining wisdom kit that will spark the minds of all ages!
---

THE WISDOM GAME
NEW!
11 fun, mind expanding challenges in an attractive portable chest, Wisdom will surely stimulate everyone to think on their feet. This awardwinning board game includes the Big Book of Wisdom, the Wisdom Wheel of the Universe and 4 categories of 200 thought-provoking questions of no right or wrong answers. Wisdom is an inspiring adventure where young and old alike, playfully interact and surprise others by their imagination.

"Highest rating! Original and provocative." Toys

"An excellent tool in the form of a parlor game. Satisfying for the stimulation and the chance to appreciate each individuals, unique way of seeing things." CM

2-30 players. Ages 7-107 French and Spanish available soon. Parents Guide Free with order of Display unit.